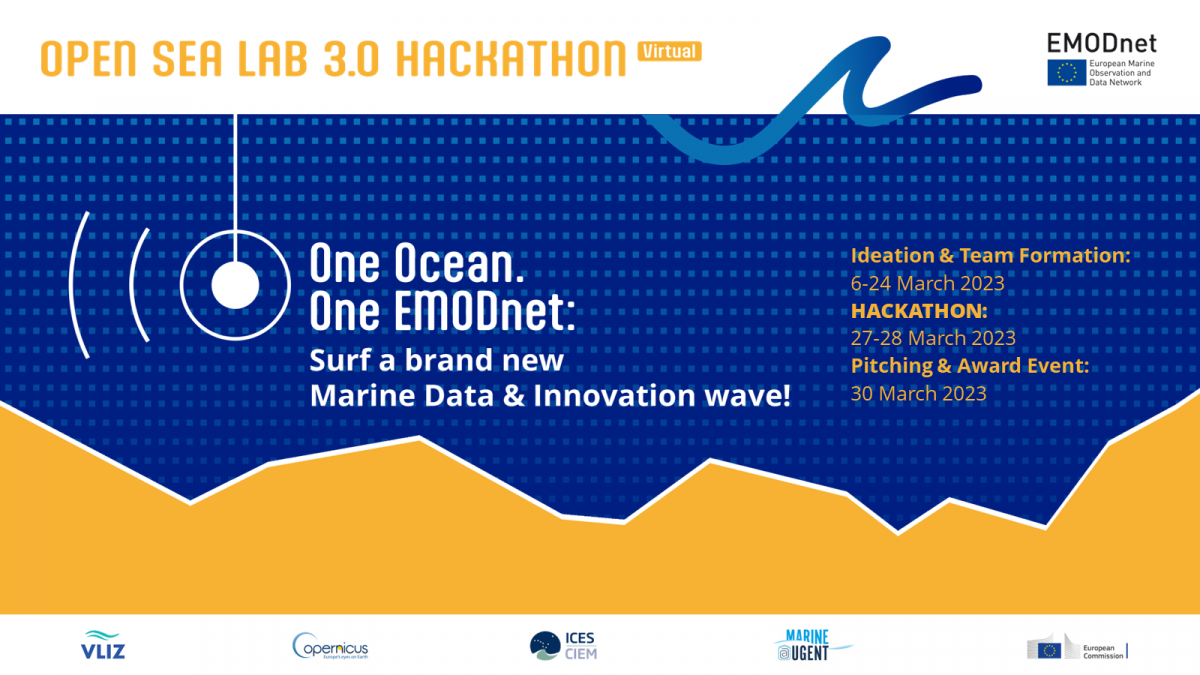 The European Marine Observation and Data Network (EMODnet) is organising the third edition of the Open Sea Lab 3.0 hackathon –OSL 3.0–, a virtual event with support from the European Commission Directorate-General for Maritime Affairs and Fisheries (DG MARE), the Flanders Marine Institute (VLIZ), the International Council for the Exploration of the Sea (ICES), the Copernicus Marine Service and Marine@UGent. Seascape Belgium as administrator of the EMODnet Secretariat is coordinating the organisation of the event. The event will take place in March 2023, kicking off with an Ideation & Team Formation warm-up, followed by a 2-day virtual hackathon on 27-28 March and a closing, Pitching & Award Event on 30 March 2023. The full agenda of the event will be disclosed soon.
Registrations are now open!
This virtual hackathon will provide a unique opportunity to bring together data and multidisciplinary scientists, software developers, social innovators, students, and businesses in Europe and around the world to harness the wealth of open-source, marine data offered by EMODnet to develop solutions to Ocean challenges.
This third edition of the hackathon –OSL 3.0– will invite participants to explore and test the new features brought by EMODnet's newly unified portal and to put their skills to test in evolving innovative ways of using open-source data to support important marine targets.
During the (optional) 3-week warm-up online sessions as well as during the virtual hackathon, participants will be supported by an impressive array of marine data and science professionals across Europe, spanning all EMODnet thematic and hackathon partners. Hackathon winners will be featured at the European Maritime Day 2023 in Brest, France (May 2023).
EXPLORE OSL 3.0 CHALLENGES & REGISTER NOW!