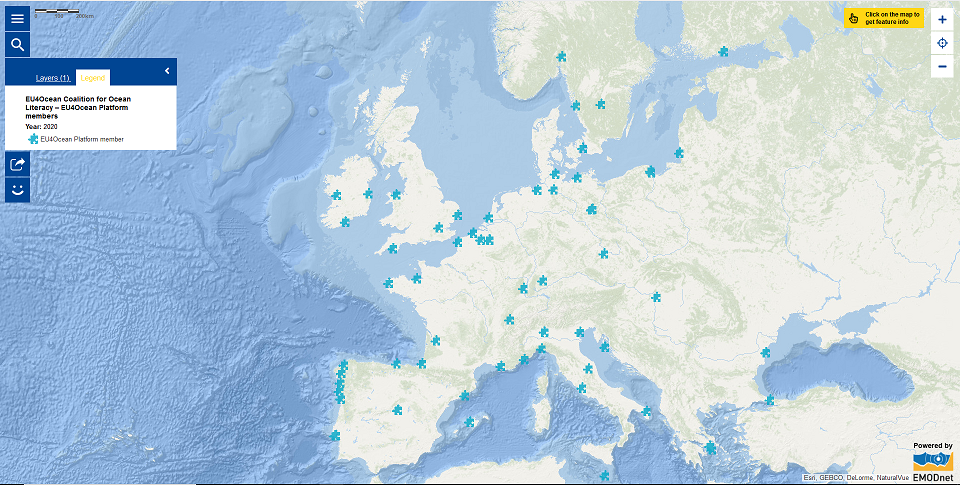 The EU4Ocean Platform managed by Seascape Belgium now includes 100 members across Europe as can be seen in the European Atlas of the Seas. On 24 and 25 September 2020, members of the Platform and of the two other components of the EU4Ocean Coalition – the Youth4Ocean Forum and the Network of Blue Schools – participated in online workshops.
This allowed them to meet each other, discuss their objectives and exchange ideas. Participants also took part in thematic workshops on Climate and Ocean, Food from the Ocean and Healthy and Clean Ocean where they enthusiastically discussed practical ideas to help citizens in Europe become Ocean Literate. Dedicated workshops also enabled them to investigate marine and Ocean Literacy challenges in the five European sea basins. Wish to know more? Presentations are published online. Interested in joining the EU4Ocean Platform? Apply now!
About the EU4Ocean Patform
The EU4Ocean Platform is part of the EU4Ocean Coalition, which connects diverse organisations, projects and people that contribute to ocean literacy and the sustainable management of the ocean. Supported by the European Commission, this bottom-up inclusive initiative aims at uniting the voices of Europeans to make the ocean a concern of everyone. In addition to the Platform, the EU4Ocean Coalition includes the Youth4Ocean Forum and the Network of European Blue Schools.